Alexander The Great: The Invisible Enemy A Biography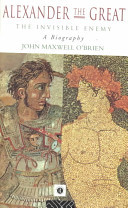 Stock information
: $30

.00

(NZD)

: 9780415106177
: Routledge
: Routledge
:
:
: September 1994
: 234mm X 156mm X 27mm
: United Kingdom
: 64.99
:
:
:
: books
:
:
: John Maxwell O'Brien
:
: Paperback
: New edition
:
: English
: 938.107092
:
:
: 360
: Biography & autobiography: historical, political & military; European history: BCE to c 500 CE; Drug addiction & substance abuse
: 7 maps, 1 table
:
:
:
9780415106177
Description
Alexander and Dionysus:The Invisible Enemy differs from other biographies of Alexander in its assessment of the role of alcohol in his life. O'Brien uses the figure of Dionysus as a symbol of the destructive effects of alchohol on Alexander's psyche. The deity serves as an agent through whom a cluster of ambivalent considerations is explored: the heroic and the Dionysiac, the rational and the irrational, male and female, sanity and madness. Alexander's story unfolds as a tragedy in the Aristotelian sense of the word. Alexander is treated from birth to death as a total personality. His culture, his gods, his parents, his aspirations, his exploits, his fears, his insecurities, his sexuality, his drinking, and the psychology of alcoholism are examined from an interdisciplinary perspective. The book utilises recent discoveries in archaeology and incorporates new interpretations from anthropology, psychology, mythology, philosphy and literature. The historical context provides a structure for these diverese insights. Key passages in the narratvie are illuminated by telling quotations from Homer and Euripides, the authors known to have constituted Alexander's favourite reading.
Reviews
"Alexander's story is compelling to lay audiences and scholars alike, with the pathos of an authentic Aristotelian tragedy. O'Brien writes with understanding and empathy, yet with resolute acceptance of the evidence."
-"Minneapolis Star Tribune
"Since the author maintains a consistent position of respectful belief in Greek mythology, as well as an immense knowledge of ancient Greek literature and history, we have a book that could indeed have been written 2,000 years ago. You don't often get a chance to read a book like this."
-"The St. Louis Dispatch
"This is a most interesting and valuable biography, not least because it provides such an extensive "Materialsammlung on Alexander as a human being."
-Ernst A. Fredricksmeyer, University of Colorado
"Suitable for a modern age . . . fair and balanced . . . The bibliography is the most complete ever assembled on modern Alexander scholarship and will prove useful to students and scholars alike."
-"Choice
"What happened to Alexander? O'Brien's answer is mesmerizing . . . he brings to the tale a sense of fatalism that Euripides would understand."
-Paul A. Gilster, "The News and Observer

Table of contents
Chapter I: The Coming of Age in Macedonia; Dionysus in the Royal Tombs; Macedonian Drinking; Philip and Alexander; Olympias and Alexander; the Dionysiac Cult in Macedonia; Olympias, Philip and Alexander; The Gardens of Midas, Heroic Models; Regent; The Battle of Chaeronea; Athens (338 B.C.); The Wedding of Philip II and CLeopatra; The Pixodarus Affair; The Assassination of Philip II Chapter II: A Homeric King; The Accession (336 B.C.); Alexander in Greece; Northern Campaigns; The Destruction of Thebes; Dium; Alexander's Sexuality; Alexander at the Hellespont; The Battle of the Granicus River; Asia Minor; The Gordian Knot; The Battle of Issus; Phoenicia; The Siege of Tyre; Egypt; Alexandria; The Journey to Siwah; The Battle of Gaugamela; Babylon and Susa Chapter III The Metamorphosis; The Signs of Change; The Burning of Persepolis: Orientalization; The Philotas Affair; The Death of Cleitus; Proskynesis; Callisthenes; The Pages' Conspiracy; Nysa and Aornus :Chapter IV: The Ambivalent Victor; Into India (326 B.C.); The Battle of the Hydaspes (Jhelum) River; "Mutiny" at the Hyphasis (Beas) River; Ocean; The Gedrosian Desert; Carmania; Persis; Cyrus's Tomb; Susa; Deification; The Opis "Mutiny"; The Death of Hephaestiion; Chapter V Death in Babylon; The Last Plans; The Death of Alexander Epilogue; Appendix A: The Royal Tombs; Appendix B: Attributes of Wine in the Readings of Alexander the Great; Postscript; Key to Abbreviations; Notes; Bibliography; Index